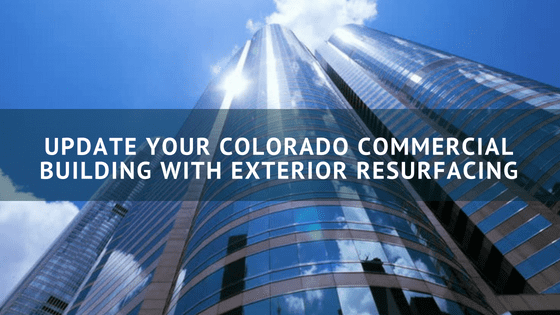 Many of the commercial properties throughout Colorado feature outdated or damaged windows. Commercial property owners often can't justify the cost for window replacement even though their property probably needs better energy efficiency. Outdated and damaged windows can really affect many aspects of your property in regards to functionality, aesthetics, and tenant retention. Exterior resurfacing is a great, affordable service that optimizes all these aspects at a fraction of the cost of window replacement.
Benefits of Exterior Resurfacing for Your Colorado Commercial Building
Exterior resurfacing utilizes window film and spandrel painting for a modernized, updated look. Window film can conceal outdated and damaged windows, making every window appear uniform. Additionally, exterior resurfacing optimizes functionality for your Colorado commercial building. Energy efficient window film promotes considerable energy savings in addition to UV protection and glare reduction. Tenants, employees, and guests will appreciate the improved year-round comfort in addition to beautiful aesthetics of your property. Exterior resurfacing can retain more tenants, attract new guests, and help you save money. This great alternative to window replacement presents a wonderful ROI. Window film is available in numerous different finishes, hues, and privacy options, allowing property owners to decide exactly how they'd like their commercial building to look.

Installation Process for Exterior Resurfacing for Colorado Commercial Buildings
Colorado Commercial Window Tinting is the industry leader in exterior resurfacing. Our premium exterior resurfacing service starts with a complimentary on-site consultation in order to evaluate any property challenges, priorities, and goals. We provide timely installation services since we understand how valuable your time is and focus on limiting operational downtime. We work quickly to install window film and paint or replace spandrel for a beautiful, uniform look.
For more information regarding our superior exterior resurfacing services for your Colorado commercial property, please contact us or give us a call: (720) 835-2163