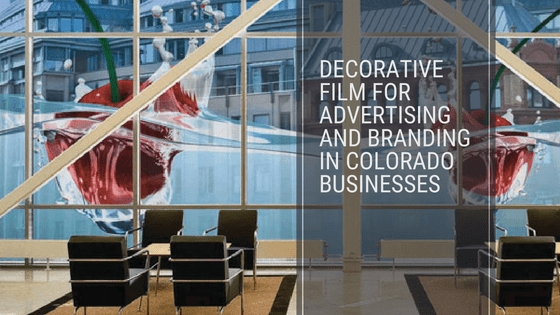 Colorado has one of the lowest unemployment rates due to all the successful businesses throughout this state. With more and more businesses starting up, it's pertinent to find high-performing solutions for effective advertising and branding. For businesses that rely on foot traffic, visual marketing tools need to be eye-catching enough to direct more new customers into your business. Decorative window film delivers a great, highly customizable solution that promotes effective advertising and branding.
Benefits of Decorative Film for Your Colorado Business
Decorative film is highly versatile and can be applied to any glass surface. With so many different options ranging from one-way graphics to high definition printing, Colorado businesses can individualize these investments to fit exactly what they're looking for. Decorative film can feature virtually any life-like imagery or mimic elegant frosted glass with custom logo cutting. These jaw-dropping visuals work to attract new customers while retaining repeat guests. Perfect for brand visibility, promoting upcoming events, sales advertising, paid sponsorships, and more, decorative film can be utilized for short-term and long-term campaigns. Customizable decorative films feature UV-resistant ink, making them perfect for long-term projects that can last over a decade. Decorative film can be easily removed and replaced by professionals, making them diverse enough for short-term projects or regional sales.

Design Process for Decorative Film in Colorado Businesses
Colorado Commercial Window Tinting is proud to be the leading source for custom decorative films and custom cut privacy films in the Colorado area. Our design team can help you create the perfect design for your business that captures your brand and targeted audience. We utilize computer-aided design software to create stunning visuals and to ensure you love your design prior to printing and installation.
For more information regarding decorative film for your Colorado business, please contact us or call: (720) 835-2163