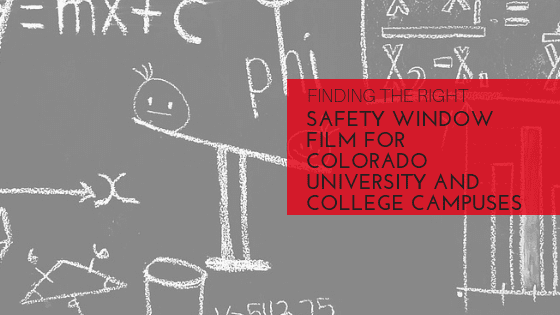 Colorado universities and colleges are always on the lookout for the most effective security measures. While security systems, security cameras, and security teams can all be effective in defending students and faculty, these options can be out of the budget. In some cases, these options fall short overall making it important to find other safety measures. When it comes to affordability and effectiveness, it is vital to find the right option so that you get the most out of your money. Safety window film is the best option when it comes to price point and functionality.
Benefits of Safety Window Film for Your Colorado University or College Campus
Safety window film offers extensive protection against imminent threats that can happen at any time. This innovative window film works by keeping broken glass fragments together after a high impact event occurs. Safety window film can defend your Colorado school against robberies, break-ins, natural disasters, freak accidents, and more. Unfortunately, Colorado schools are no stranger to shootings and domestic attacks, making specialty safety film viable options to look into. Bomb blast window film and ballistic resistant window film can better absorb the impact of shock waves created by gunfire and explosions. Safety window film drastically lowers risk of serious injury and blast-related death by mitigating broken glass hazards.
Installation Process for Safety Window Film in Colorado Universities and College Campuses
Colorado Commercial Window Tinting is honored to be the preferred school security window tinting contractor. Our acclaimed security team is comprised of civil engineers and security experts that can assist in finding the best security solutions for your university or college campus. With a discreet, timely installation process, only the people you inform will know about this invisible security measure.
For more information regarding safety window film for your Colorado campus, please contact us!