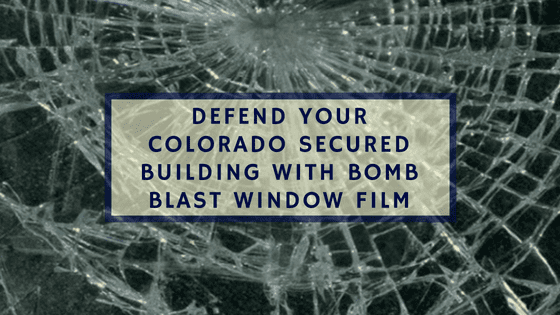 Secured buildings throughout Colorado are always looking for the best security options. From police stations to military bases, government buildings, and more, these institutions prioritize safety requiring comprehensive protection from a multitude of different threats. While high tech security systems are definitely effective for some threats, other threats require proactive measures like bomb blast window film. Bomb blast window film can protect your Colorado secured building from numerous events that security systems can't.
Benefits of Bomb Blast Window Film for Your Colorado Secured Building
Bomb blast window film utilizes multiple layers of premium security film that's incorporated with an attachment system and glass strengthening agent. We always use C-Bond and Dow 995 due to their extreme effectiveness, strength, and flexibility. Bomb blast window film works by absorbing the shockwave from high impact events and keeping broken glass fragments bonded together within the window or door frame. Durable enough to withstand explosions, gunfire, natural disasters, break-ins, burglaries, freak accidents, and more, bomb blast window film protects building occupants and valuables. By mitigating broken glass hazards, operational downtime is quicker due to easier cleanup. Bomb blast window film can save lives and important property which is vital for Colorado secured buildings.

Installation Process for Bomb Blast Window Film for Colorado Secured Buildings
Colorado Commercial Window Tinting is proud to be the security experts serving the Colorado area. Our team is comprised of civil engineers and security threat experts. We're happy to conduct an on-site consultation to evaluate property vulnerabilities, provide product recommendations, cost-benefit analysis, and more. Once you decide to go ahead with bomb blast window film, we complete fast, discreet installation processes for further protection. Bomb blast window film can include other benefits of energy efficiency, privacy, UV protection, and more.
For more information regarding bomb blast window film for your Colorado secured building, please contact us or call: (720) 835-2163