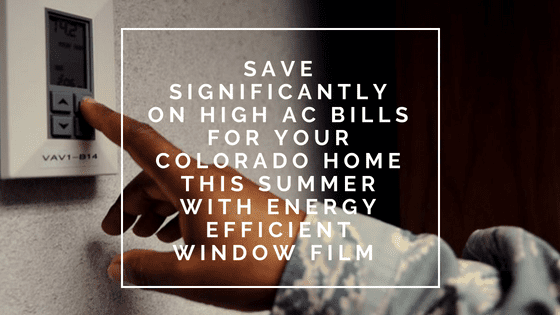 Energy costs are always significantly higher during summer months especially here in Colorado. AC bills can seem unmanageable when trying to beat the heat and staying comfortable in your Colorado home. Many begin the search for energy efficient solutions but get deterred when they see the high price tag attached to Low-E window replacement. Window replacement is highly effective for energy efficiency but comes at a steep price and requires a long time commitment for installation. Energy efficient window film is the best alternative for window replacement offering a quick, cost-effective solution for Colorado homeowners.
Benefits of Energy Efficient Window Film for Your Colorado Home
Energy efficient window film can be just as effective as window replacement in terms of energy savings. The great thing about window film is that it can be installed much quicker and is much more affordable than Low-E window replacement. Colorado homeowners on average experience 30% savings in summer months and 10%-15% savings in winter months. Energy efficient window film eliminates cold/hot spots throughout the interior of your home, helping optimize comfortability while maintaining a consistent temperature. Energy efficient window film also features UV blocking capabilities and glare reduction benefits for comprehensive comfort. UV protection is vital here in Colorado for protecting property valuables and your loved ones.

Installation Process for Energy Efficient Window Film for Colorado Homes
Colorado Commercial Window Tinting has the largest selection of energy efficient window film from all the leading manufacturers. Energy efficient window film has different benefits and ranges of effectiveness, making it important to discuss your priorities, property challenges, goals, and more. Once we've evaluated your Colorado home, we're able to make proper product recommendations. We deliver timely installation processes that utilize C-Bond for quicker cure times.
For more information regarding energy efficient window film for your Colorado home, please contact us or call: (720) 835-2163