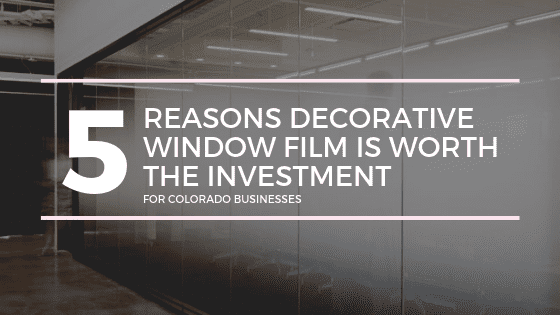 Could your office or commercial property use a little TLC? Decorative window film could be the solution your Colorado business needs.
In the business world, appearances matter. Clients and customers make judgments based on how your property looks. A clean, professional looking space increases your credibility and helps you gain your clients trust.
And your employees are also affected by the design and layout of your office. When employees have access to natural light, private rooms for phone calls and meetings, and a comfortable, glare free work environment, they're more productive and satisfied with their job.
So while decorative window film may seem like an unnecessary expense, we assure you, it's well worth the investment. Below, we've listed five ways that adding decorative window film to your Colorado office could pay off.
Five Reasons You Should Invest in Decorative Window Film
As a small or growing business, you may be hesitant about any expenses that aren't absolutely necessary. You have to be careful about where you allocate your spending, and every dollar counts. Your list of yearly purchases may be short, but decorative window film should still be on it. Here's five reasons why.
1. It voices your brand.
When it comes to marketing, branding is everything. But even the most genius brand is a waste if it's not made visible. Help your customers remember your brand and business with custom decorative window film.
2. It keeps things confidential.
Transparency is important, but some things just aren't meant to be shared. Keep control over what matters stay private and which don't with decorative glass laminates for privacy.
3. It's illuminating.
Today, most businesses rely on lap tops and computers on a daily basis. It's hard to work in an office that's full of super bright light from the sun, but at the same time, you want at least some amount of natural light. Decorative window film reduces harsh light and glare, optimizing the lighting in your office.
4. You can start things off on the right foot.
First impressions are crucial. Make a good first impression every time with a beautiful looking office or store using decorative window tinting.
5. The payback is phenomenal.
In the end, you could end up saving money from installing window film. Window film reduces energy use, often providing businesses with a full payback in less than 3 years.
Get a Quote
Invest in the future of your business. Call Colorado Commercial Window Tinting today to get a quote on decorative window film in Colorado.