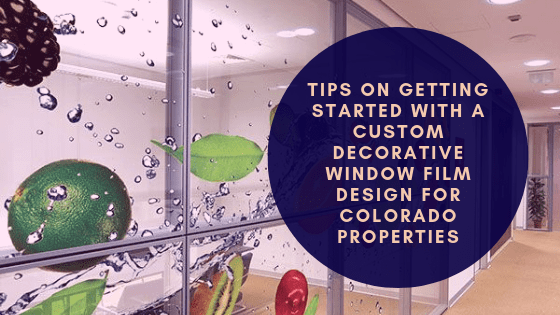 Are you looking for creative ways to enhance your existing property design? Have you been trying to accomplish a custom piece for your business that addresses both branding and marketing needs? Custom decorative window film delivers a great way to address both while providing a cost-effective solution. Finding the right custom decorative film contractor can make all the difference in your project results.
The Advantages of Custom Decorative Window Film for Your Colorado Property
Custom decorative window film is a great way to transform your existing property with your own particular touch. Creating custom decorative film can be easy when working with the right decorative film contractor. Work with our team of graphic designers and CAD experts to create the right investment for your commercial property. Whether you have graphics you're already interested in or you'd like collaborative support in creating your design, we've got you covered. We have almost 20 years of experience when it comes to creating decorative window film and are happy to show you our portfolio as well. From hand sketching your designs to pinpointing the right color on Photoshop, our team is well equipped to support you through the entire custom design process. With finalized imaging available, you'll be able to see 3D renderings of your property with your intended custom design.
Work with Colorado's Preferred Custom Decorative Window Film Experts
Colorado Commercial Window Tinting is honored to be the custom decorative window film experts serving the state of Colorado. We've helped numerous commercial properties with their decorative and branding needs, providing superior custom design work. With UV-resistant inks and other exclusive window film benefits available, we can help you create the perfect custom decorative film for your commercial property.
For more information regarding our custom decorative window film for your Colorado business, please contact us!