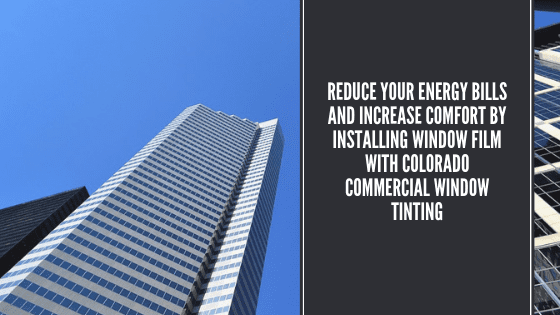 Has your office or business been experiencing high cooling costs this year? Even with the late rainstorms this summer, we're still experiencing 90-degree weather in Colorado. Commercial properties can be tough to keep cool due to size and comfort level. Making sure employees, guests, and customers are all comfortable during business hours can really impact your utility bill. Energy efficiency solutions are highly coveted but can be quite expensive. Window film offers an affordable way to reduce energy bills and increase comfort.
The Advantages of Window Film Installation for Colorado Commercial Properties
Window film installation offers a fast, effective alternative to window replacement. Installation times can be completed within a week at most depending on your property's size. Window film is also a fraction of the cost of window replacement. This affordable solution is a great ROI which typically pays for itself in just a few short years. The solar heat gain properties block unwanted heat while keeping your cooling efforts inside. The UV blocking properties also promote a cool, comfortable environment. The UV protection is like adding SPF 1000 to your property. This provides fade protection and defends building occupants from harmful UV radiation. Glare reduction is also available with window film installation. This benefit can improve the buyer experience, enhancing employee comfort, and more.
Work with Colorado's Leading Window Film Installers
Colorado Commercial Window Tinting is honored to be the leading window film installers in the state of Colorado. We're happy to help businesses and offices reduce their energy bills. Our money-saving solutions are wonderful for addressing year-round comfort. Experience the most comfortable internal temperature paired with other exclusive window film benefits for your commercial property. Our window film installations are always quick and stress-free.
For more information regarding window film installation for your Colorado commercial property, please contact us!