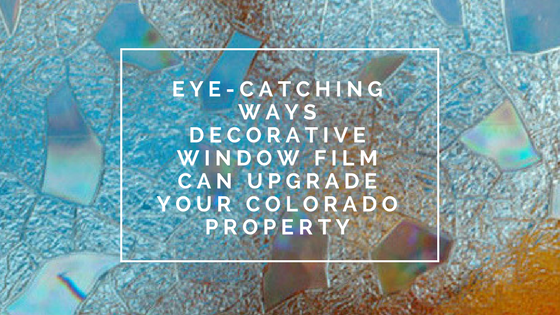 Finding a cost-effective, eye-catching interior design tool that can be applied to both residential and commercial properties throughout Colorado can be incredibly difficult– especially one that can be frequently replaced or changed. Looking for an alluring visual marketing tool to attract new customers and potentially retain more repeat customers can be even more difficult. Luckily, decorative window film provides the budget-friendly solution Colorado homeowners and commercial property owners have been looking for.
Eye-Catching Residential Decorative Window Film Applications for Colorado Homes
Colorado homeowners can utilize decorative window film as an incredibly beautiful privacy solution for any glass areas in their home. From showers to home offices, decorative film can provide the often sought after frosted glass or etched look offering simple to intricate design options. With numerous colors, design options, patterns, and a highly customizable application, privacy film can elevate your Colorado home and can be frequently changed for those who enjoy redecorating. Whiteboard film can be creatively incorporated into kid's rooms, home offices, kitchen spaces, and anywhere that needs a practical, fun messaging system.
Eye-Catching Commercial Decorative Window Film Applications for Your Colorado Business
Colorado businesses and commercial properties looking for an effective, alluring visual marketing tool can incorporate decorative film in both exterior building wraps and interior applications. This versatile solution is highly customizable and offered in HD printing option for life-like graphics. From innovative one-way graphics to layered graphic film products, decorative film can promote anything from brand visualization to regional sales. Applicable in any industry from sports arenas to museums and retail fronts, decorative film enhances buyer experience, attracts new customers, and retains repeat guests. Decorative film can be utilized as privacy solutions as well in any office space or conference room.
For more information regarding decorative film application for your Colorado home or business, please contact us or call: (720) 835-2163