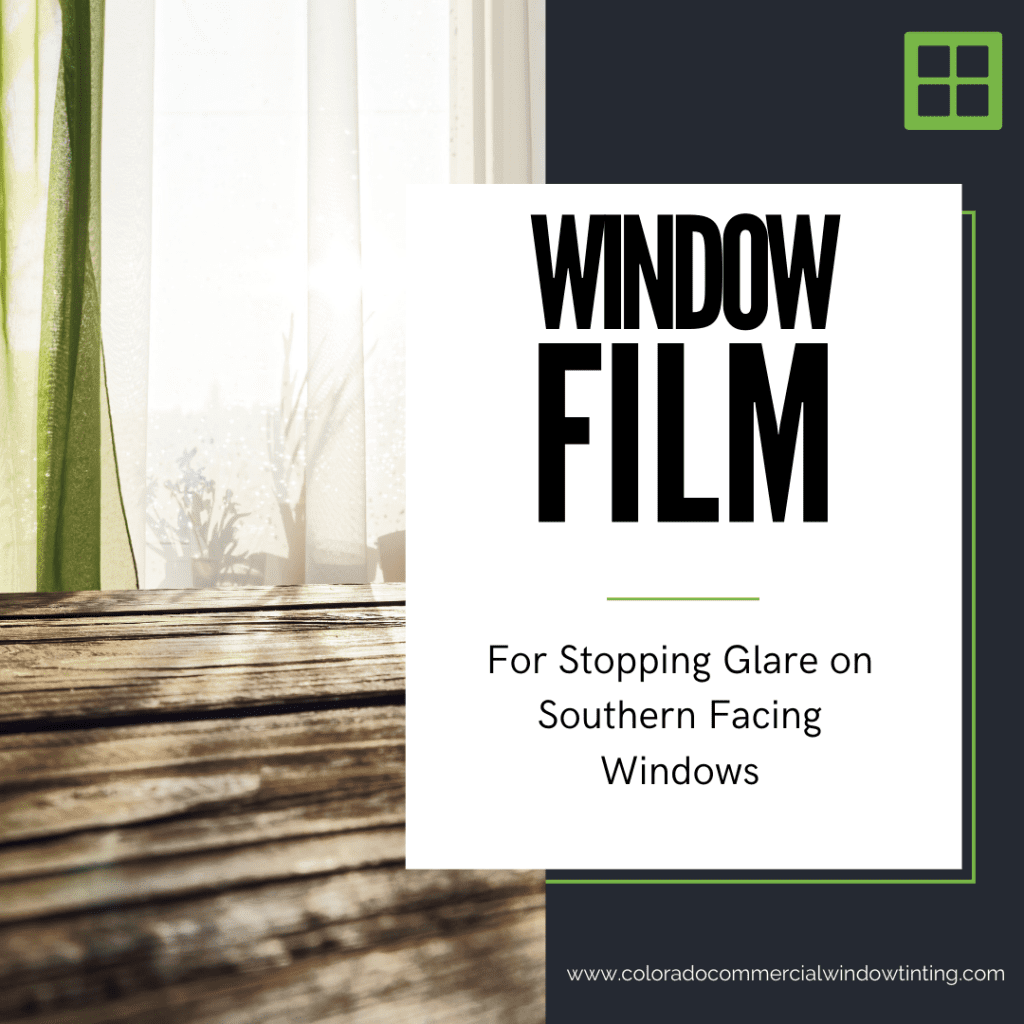 People here in Colorado Springs and all around this great state of ours understand how annoying glare can be. It is especially on windows facing south here along the Front Range where we sit at a mile high. Not only do they get sun all day but that sun is stronger than at lower altitudes and this causes myriad issues stemming from windows. Whether you run a business in the Broadmoor Towne Center or home way out along Bear Creek Road–the struggle with the negative side effects is real. However, it is also easily remedied with glare-reducing window film.
The Problems with Southern Facing Windows
The issue with southern-facing windows is the bright sun all day long. While this is good for house plants and a long Colorado Springs growing season if your yard faces south–with windows it causes detrimental effects to your home life.
Southern-facing Windows Get A lot of Glare
Since the sun does not relent much during the day–glare is a real issue in rooms that face this direction. The glare obscures screens so offices or living rooms are almost impossible to use during peak hours of the day. This is why having glare-reducing window film installed is a good way to make these rooms functional again.
Southern-facing Windows Cause Floors and Furnishings to Fade Faster
Any furnishing that gets sun will fade over time due to UV rays: artwork, upholstery, floors, and more. However, in rooms that face south the fading will be markedly more drastic. Not only will floors bleach whiter and upholstery degrade more significantly–but this process will happen faster. Glare-reducing window film also protects furnishings from fading too–preserving the items you've worked hard for and love.
Southern-facing Windows Make Rooms Uncomfortable
Probably the biggest issue our former customers have with souther-facing windows is the heat. Heat builds up on these windows big time! The transfer of this heat causes any room in your Colorado Spring home facing south to get incredibly hot. Of course in the summer these rooms are almost unbearable–but can be too hot in winter too. Glare reducing window film can bring the heat transfer down by up to 50% making some of the most beautiful rooms in your house also the most comfortable temperature-wise!
Reach out to us at Colorado Commercial Window Tinting today for more information on glare-reducing window film for your Colorado Springs home.