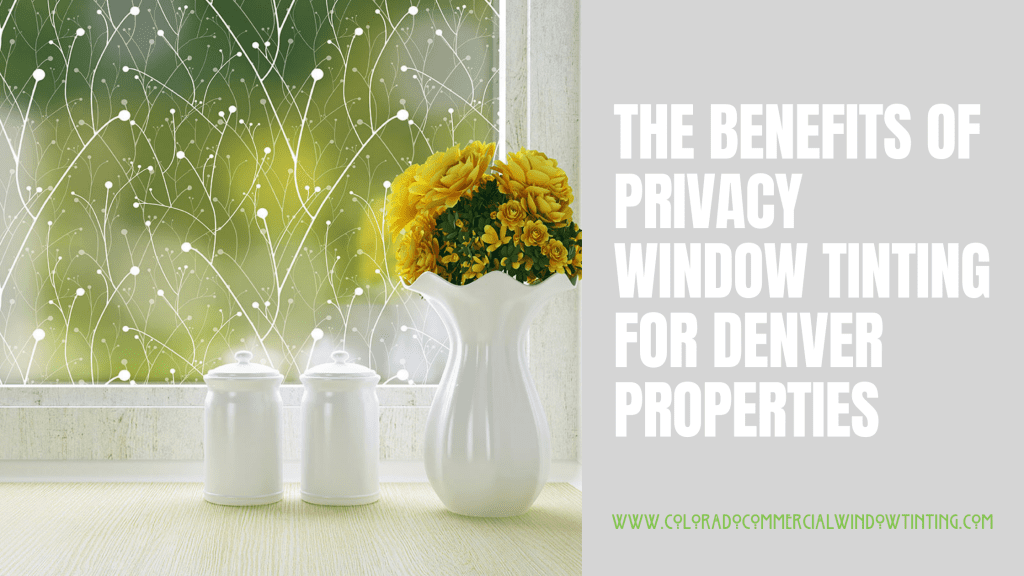 Privacy is hard to come by in growing cities like Denver. Houses are closer together than ever and more and more houses seem to be added to the relatively small city center each day. The lack of privacy brings with it all sorts of problems from more crime to less home comfort. While drawing blinds and closing curtains gives some relief–they also present some drawbacks like limiting natural light. So, the logical answer is adding privacy window film. It lets in plenty of natural light and has quite a few benefits as well. 
Privacy Window Tinting Deters from Theft
When unwanted people can see directly into your home you could have a potential threat on your hands. Typically, crimes like robberies are crimes of opportunity–when thieves see your expensive belongings or, more importantly, that no one is home. Privacy window film partially or fully obscures your home, its people, and belongings from those who aim to do your harm. This keeps you and your family safer from becoming a victim of break-ins.
Privacy Window Tinting Blocks UV Rays
You may not realize that you have a potential health threat beaming through the windows of your home every day–the sun. In fact, the UV rays of the sun, if left unchecked through home windows, are possibly the most detrimental thing to your family and furnishing. Privacy window tinting comes with built-in UV protection, acting as an invisible shield and blocking 99.9% of harmful UV rays.
Privacy Window Tinting Adds Privacy in Sensitive Home Areas
While you don't want someone looking in any window of your home–some areas are more private than others and demand a highly opaque solution. This is where window film shines. For rooms such as the bathroom and bedroom, privacy window film is one of the best solutions to keep unwanted viewers out. Plus, there are several different finishes for these types of film from textured to reflective so you can choose a window film style for privacy that fits your home decor!
For more information on privacy window tinting solutions for your Denver home, contact us for a free consultation today!