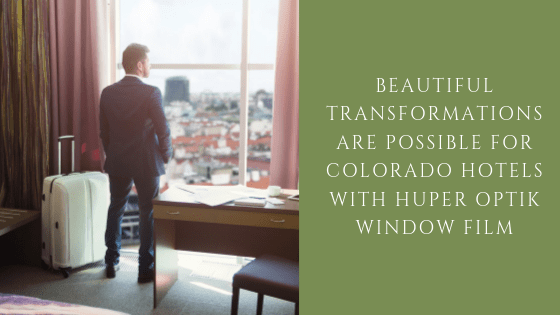 With beautiful attractions like Rocky Mountain National Park, Garden of the Gods, Great Sand Dunes National Park, and a plethora of hiking and skiing spots, Colorado is undoubtedly one of the most popular places to visit in the US. Tourism is a huge part of Colorado's economy and with plenty of outdoor activities available year round, there's never a shortage of business for local hotels and resorts. However, it's still important to make sure your hotel is up to date so that you can attract customers to your business. Modernize the look of your property and impress your visitors with Huper Optik Window Film for your Colorado hotel.
How to Beautify Your Hotel with Window Film
No matter how on top of maintenance tasks you are, your hotel is bound to take a beating over the years. Wear and tear is normal for any high traffic environment and hotels are no exception. If your hotel is looking a little rusty on the inside or from the exterior, you may want to consider installing hotel window film to freshen up its appearance. Hotel window film provides an easy solution for fixing exterior glass defects and can also add color, privacy, and beauty to interior spaces as well.
Explore Window Tinting Options from Huper Optik
When choosing a window film for your hotel in Colorado, it's important to take quality into consideration. Colorado's climate is no joke and you want to know that the film you invest in will be able to withstand all the brutal weather that's so common in our state as well as the high traffic of your hotel. Huper Optik offers a vast selection of durable, high quality window films that are perfect for hotels. Obtain privacy and energy efficiency in a pinch with Huper Optik Fusion Window Films. Or pump up your interior decor with Huper Optik Decorativ Films. With Huper Optik, the possibilities are endless.
Get More Information
Looking for more information on hotel window film in Colorado? Call today to learn more about our selection of Huper Optik Window Films and other window tinting products for Colorado hotels, resorts, and hospitality businesses.