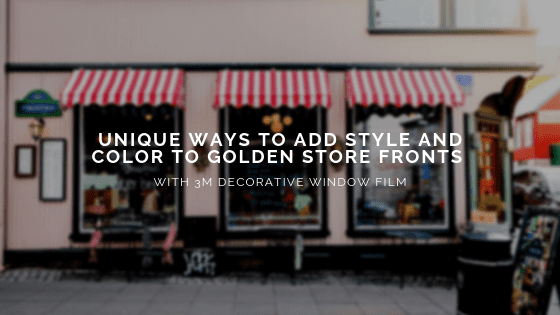 With a prime location in the foothills of the Rocky Mountains, Golden is a tourist magnet for all who come to visit the Denver area. And what do tourists love to do when they're in a new city? Shop and eat, of course! As a business in Golden, you want to make sure that you're attracting as many people as possible to your location.
That's why installing 3M Decorative Window Film for your Golden retail store, restaurant, or commercial building is such a great investment. With 3M Window Film, you can liven up the appearance of your storefront and draw attention to your business.
Why 3M Decorative Window Film?
As a business owner, you know that you have to spend money in order to make money. Investing a little bit of money in upgrades to your property can go a long way and result in a tremendous increase in profits for your business. 3M Decorative Window Film is an investment that requires relatively little expense and can greatly benefit your business in the long run by increasing your number of walk-in visits.
Creative Ways to Enhance Your Storefront with 3M Decorative Window Film
Here are a few creative ways you can use 3M Decorative Window Film to give your Golden storefront a boost in style:
Custom signage – Add elegant signage to your property to build your credibility
Seasonal prints – Attract shoppers and diners during the busiest parts of the year with themed window film
Patterns & textures – Create depth and interest using colorful patterned and textured 3M Fasara Glass Finishes Window Film
Get a Quote on 3M Decorative Window Film
Colorado Commercial Window Tinting is your source for 3M Decorative Window Film in Golden and the Denver metro. Call our office today to get a quote on window film installation for your Golden property.