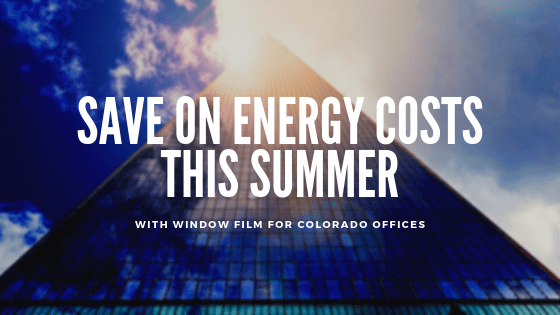 As a business, your commercial property is one of your largest expenses. It takes a lot of power to keep an office running, and utility costs aren't getting any cheaper. In fact, according to an article by Energy Star, small businesses alone spend approximately $60 billion per year on energy. That number doesn't even include all of the medium and large businesses in the U.S.
Summer is undoubtedly the most expensive time of the year for Colorado businesses. Temperatures reach up to 100 degrees on some days, which means businesses spend a fortune on air conditioning alone.
Energy saving window film provides Colorado office owners with a solution for improving energy efficiency that's both convenient and affordable. Within just 36 months, the entire investment cost can be earned back from all of the money saved on energy.
How Window Film Can Lower Your Energy Costs
Think window film is only for cars? Think again. In fact, it's used just as often for buildings as it is for vehicles. Window film is one of the most effective ways to improve the energy efficiency of windows that are already in place. Single pane windows are cleaned, primed, and covered with a sheet of strong polyester that contains heat blocking particles like dyes and ceramics. You don't even have to close down parts of your office or move desks around since there's literally zero construction involved. And after it's installed, your energy costs could decrease to 60% of what they were before. That's almost half.
Getting Started with the Process
Window film is a solid investment for any Colorado business and getting started is easy. All you have to do is follow these simple steps.
1. Contact a window tinting contractor in your area. Make sure it's someone trustworthy with a good reputation.
2. Discuss different styles of film with your installer during your consultation. Tell them that your main goal is to improve your office's energy efficiency.
3. Sit back, relax, and let the professionals go to work. When you work with a window tinting company, they'll do all the heavy lifting for you. All you have to do is sit back and watch the magic happen.
Start Saving with Window Film
Save money on energy costs this summer and every summer after. Call our office today to have energy saving window film installed for your Colorado business.