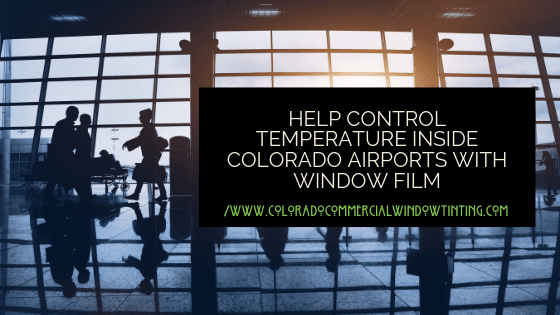 Colorado is a wonderful place with just the right mix of things.  Enough big cities but enough rural towns, enough to do on a Friday night downtown but a ton of reasons just to stay in your neighborhood and chill. Enough chilly nights in the winter balanced by a handful of steamy ones in the summer.  But one thing that Colorado has nearly too much of is–sun. That's right, it plagues commercial spaces here from hotels to retail shops and one place in particular that suffers in airports. This is because airports tend to have a lot of windows on all four sides.  When buildings have large windows, generally on the southeast and due west sides, the heat of the sun can be crippling and make temperatures inside unbearable for passengers, crew, and vendors.  
The Solution To Climate Control in Colorado Airports
The perfect solution to hot temperatures in airports here in Colorado is actually 3M window film–specifically the Prestige series.  There are three reasons, in particular, this film is excellent at climate control in airports.
 3M™ Prestige Series Films Curb Excessive Heat: By using non-metalized, multilayer optical film plus the latest in nanotechnology 3M films do what others don't–effectively reject up to 97%* of the sun's heat-producing infrared light.  This means Colorado airport stay cooler, even in areas of high altitude sun
3M Prestige Series Films Add Insulation:  While you may not think of insulation as something that is needed when heat is involved–it actually is.  This is because insulation works not only to keep the hot air out but to the cooled air in too. This means the temperatures in airports remain more constant and comfortable with 3m prestige series films installed. 
3M™ Prestige Series Films Even Out Temperatures:  The precision with which Prestige Series film filter light waves is what puts it head and shoulders about competitors.  As light and heat pass through the film it is perfectly filtered and controlled according to its wave type and even the position of the sun.  This means as the angle of the sun changes, so too does rate at which Prestige Window Films filter its light. So 3M Prestive Films work hardest when airports need them most. 
With such spectacular and cutting edge performance, 3M Prestige Series films are truly a way for Colorado Airports and other commercial structures to keep people more comfortable indoors.  Contact us at Colorado Commercial Window Tinting today to learn more about climate control window films for any commercial space you may have!