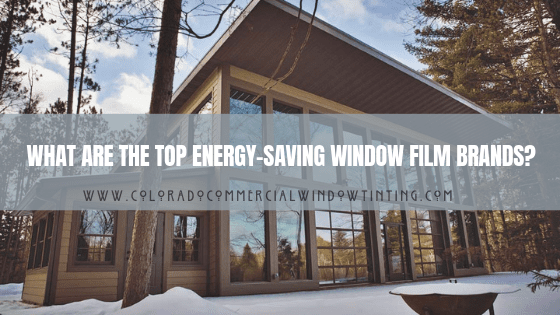 There are a ton of uses for window films for home and business owners nationwide–from solar control to safety and privacy to decoration. But easily the top reason people choose to use window film is for its unparalleled ability to save them money on utility bills. Most solar control window films save some money on energy cost but it is Low-E films that are engineered for the job and outperform any other window film types.
What Is Low-E Window Film?
Low-E means low emissivity. The emissivity is the percentage degree to which heat is reflected back into a room and how much is lost to the outdoors. So, the lower the "e-value" the better a film performs in saving energy. Solar control films typically have an "e-value" of .84 or 84%. Low-E films have lower "e-values" than run of the mill solar control films which is why they work best for savings through energy-efficiency. These films reduce heat loss in winter but also reduces heat gain in the summer–making them the clear choice for year-round savings. Some companies post the emissivity of their Low-e films and some do not. But it is important to note that while important, there are other factors besides the e-value that determine the overall efficacy of an energy-efficient film. Therefore, one should never select a window film based on e-value alone.
*Please note: Most Low-e films have an emissivity of 65% unless otherwise stated
Top Low-E Window Film Brands
Enerlogic
Emissivity: 0.07 (7%)
Enerlogic's claim to fame is having the lowest emissivity in the business at 7%. They, therefore, claim to offer the most savings. While there are other factors involved, you likely will save substantially more on utility bills with Enerlogic than many other films. Their patent-pending coating delivers on energy efficiency in every season. Plus the appearance of this film is spectacular.
Solar Gard: Silver AG
Emissivity: 0.22 (22%)
Although not the lowest e-value, Solar Gard Silver AG has one of the lowest emissivity in the biz. This prevents most of the heat in a room from escaping through windows in the winter. But it is the high heat rejection and low emissivity combine that make for a fast ROI in dual-climate regions. Used specifically for architectural purposes this film is incredibly clear and beautiful.
Llumar
Emissivity: 0.33 (33%)
This Low-E film excels at energy conservation and boasts quite a few other solar control properties as well, including, shielding homes from 99% of ultraviolet rays. The premium solar technology of this film also allows windows to make the best use of natural light–reflecting infrared heat but still allowing in abundant visible light.
3M: Thinsulate
Emissivity: N/A
3M does not post the emissivity of their films Low-E or otherwise. However, this does not take away from the fact that 3M Thinsulate is one of the most energy-efficient window films available today. At time tested brand 3M Thinsulate films have incredibly insulation properties making a single pane window's insulation close to that of a double-pane window and a double pane window's insulation near that of a triple pane window.
Huper Optik: Fusion Series 10
Emissivity:0.23 (23%)
The fusion series from Hüper Optik is a wonderful mix of leading window film technologies. Their impressive low e-value means excellence in energy-efficient performance. But their elegant neutral tones allow for second to none aesthetics. Plus, these films have impressive solar control properties too. Meaning more than just money savings but comfort as well–by preventing temperature variances and rejecting infrared and ultraviolet light rays.
For more information on these or any other window film brands for your Colorado home, contact us at Colorado Commercial Window Tinting today!