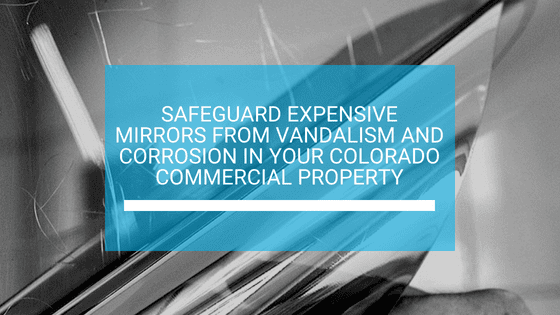 Mirrors can definitely be an expensive investment for any commercial property in Colorado. They're fragile and aren't easily repaired, typically needing to be replaced once damaged. As vandals are starting to get more creative with the surfaces they decide to damage, mirrors are now a major target. Mirrors that are housed within bathrooms or other rooms that suffer a lot of moisture exposure naturally get corroded over time. Mirror restoration provides a great, budget-conscious solution for protecting expensive mirrors.
Benefits of Mirror Restoration for Your Colorado Commercial Property
Mirror restoration utilizes MIrror Shield, a specialty surface film produced by Graffiti Shield, in order to safeguard mirrors of any variety. Mirror Shield mimics the appearance of mirrored surfaces while concealing any existing damage. This allows Colorado commercial property owners to keep their original mirrors and not have to pay for replacements. Mirror Shield simultaneously protects your mirrors from further vandalism efforts and natural corrosion caused by moisture exposure. Your mirrors will remain clean and professional looking, providing the best image for your guests. This affordable solution works as a sacrificial layer that's simply removed and replaced by a professional window film contractor once damaged.

Installation Process for Mirror Restoration in Colorado Commercial Properties
Colorado Commercial Window Tinting is the trusted mirror restoration experts in the state of Colorado. We ensure the highest quality installation process utilizing commercial-grade adhesives and glass strengtheners. Your specialty surface film will remain undetectable and tamperproof from the general public. We complete all installations, removals, and replacements in a timely fashion so that your commercial property doesn't have to suffer from any operational downtime. Regardless of the shape or size of your mirror, we can custom cut a perfect fit for your property.
For more information regarding out mirror restoration services for your Colorado commercial property, please contact us or call: (720) 835-2163