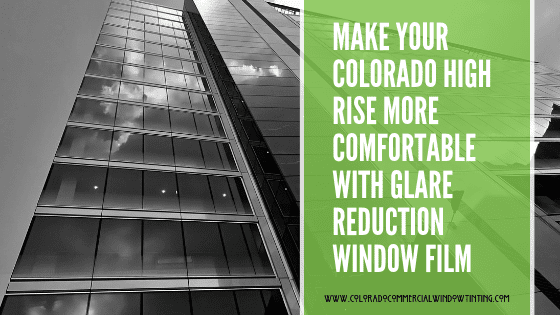 Window Film To Control Glare On Colorado Skyscrapers
When it comes to living and working in some of the bigger cities here in Colorado like Colorado Springs or Denver, high rises are a fact of life. They conserve space and make it possible for many people and businesses to fit into a small central location; they are highly efficient.  So, ostensibly skyscrapers come with a whole lot of benefits for the Colorado business worlds. But, for as many problems as they solve there are some issues these types of structures also create. Glare on and through windows is foremost among them–especially in Colorado's high altitude where the sun is incredibly strong. Window film, as it were, is a solid solution to this issue of glare and, by and large, benefits the employees in high-rise buildings most of all.
The Benefits Of Glare Reducing Window Film For Colorado Skyscraper Office Employees
Glare Reducing Window Film For Reducing  Eye Strain
Glare through high-rise windows creates many problems for employees one of the most notable of which is –eye strain.  This type of annoyance is serious though and leads to headaches and eventually an increase in sick days. By installing glare reducing window film, business owners or building managers are able to reduce both eye-strain and absenteeism among their staff.
Glare Reducing Window Film On Colorado High Rises For Better Screen Visibility
The glare of the sun on computer screens makes them virtually impossible to see and grinds work nearly to a halt.  By installing window film on the windows of Colorado high-rises, employers increase productivity which in the long run increases their own bottom line.
Glare Reducing Window Film For More Even Office Temperatures
When employees temperatures are uneven, employees are unhappy and tend to get less work done. It really is that simple. So, another way to boost productivity in high-rise offices in is glare-reducing window film to even out temperatures.  This simple and cost-effective addition increases employee comfort and likewise employee satisfaction with their jobs.
For more information on glare reducing window film to increase the employee comfort and productivity in a building you own, manage or work, contact us at Colorado Commercial Window Tinting today!