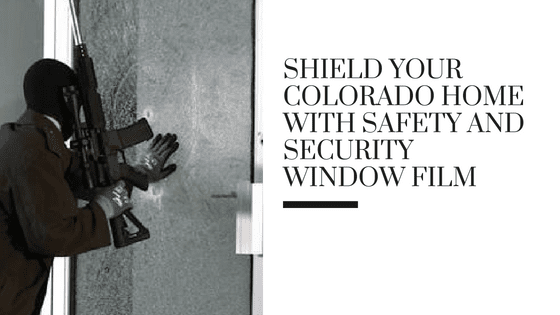 As theft and burglary rates continue to rise throughout the state of Colorado, it's becoming more vital for homeowners to take charge of their home security. Security systems can cost a lot of money while relying on third parties to contact the police which can cause a delay in response time. Security systems are capable of securing your home against many threats but there are a few areas that unfortunately fall short. Safety and security film delivers comprehensive, around-the-clock protection, acting as a passive system that's always on.
Benefits of Safety and Security Window Film for Your Colorado Home
Safety and security window film is a thick, durable solution that mitigates broken glass hazards after a high impact event. By keeping all broken glass fragments together within the window frame, your loved ones and valuables remain safe. Safety and security film can protect your Colorado home from a plethora of threats including break-ins, burglaries, explosions, gunfire, natural disasters, freak accidents, and much more. Safety and security window film can deter assailants and burglars since it causes such a loud commotion and much more time to actually gain access to your home. The noise and time attract attention often deterring them before they can successfully commit a smash-and-grab robbery.

Installation Process for Safety and Security Window Film in Colorado Homes
Colorado Commercial Window Tinting is the leading source for safety and security window film in the state of Colorado. Our dedicated team of security experts can help ensure the safety and peace-of-mind of your loved ones. We have many multi-purpose safety and security films that feature energy efficiency, privacy, UV protection, and decorative options. We provide quick installation processes so that your home can immediately benefit.
For more information regarding safety and security window film for your Colorado home, please contact us or call: (720) 835-2163