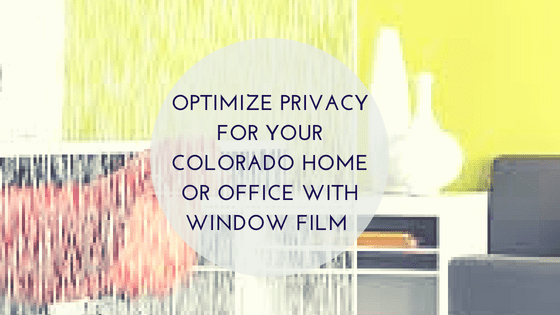 As the population continues to drastically increase throughout the state of Colorado, many residences and office spaces are experiencing privacy issues. Whether it's an issue of close proximity of building location or not enough seclusion within conference rooms within your office, privacy film delivers a budget-friendly solution that's highly capable and can improve aesthetics.
Benefits of Privacy Window Film for Your Colorado Home or Offices
Privacy exterior tinting is perfect for homes or offices that are simply located too close to each other. Great for condos, offices located on the first or second floor, and compact residential areas, privacy exterior window tint comes in a variety of finishes, hues, and colors so that Colorado property owners can customize exactly how they want their building to look. Decorative privacy films are available for addressing interior privacy concerns. We have the largest inventory of decorative privacy films, ranging from different gradients to opaques and colors. These decorative films imitate the look of etched or frosted glass at a fraction of the price of custom glass replacement. With the ability to custom cut or custom print, offices can take advantage of these privacy solutions for brand promotion. Perfect for conference rooms, collaborative work areas, shared business buildings, and much more.

Installation Process for Privacy Window Film in Colorado Homes and Offices
Colorado Commercial Window Tinting has successfully completed numerous privacy projects throughout the state of Colorado. We're happy to provide free consultations in order to recommend the best products for your home or office. From custom design help to showcasing what your property will look like after installation, we want to make sure you find the right investment and privacy solution. We provide worry-free, timely installations for all of our Colorado clients.
For more information regarding privacy window film for your Colorado home or office, please contact us or call: (720) 835-2163