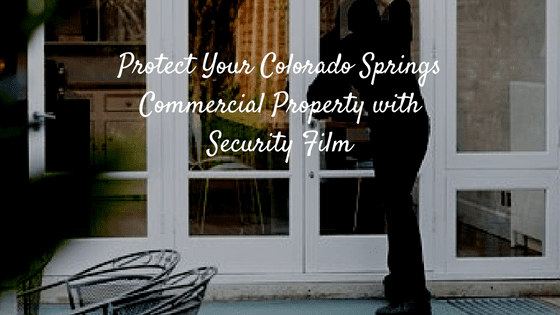 With so many different commercial properties featured throughout Colorado Springs, from retail centers to military bases, it's important to find the right security measures that can ensure everyone's safety and peace-of-mind. With an unfortunate abundance of domestic attacks, many public buildings and commercial properties are beginning to require security film. Safety and security film offers a budget-friendly solution that offers extensive defense for building occupants and properties throughout the Colorado Springs area.
Benefits of Security Film for Your Colorado Springs Commercial Property
Safety and security film presents the opportunity for Colorado Springs commercial property owners to mitigate all the hazards that come with broken glass and flying debris after a high impact event. Security film can protect building occupants and interior valuables from natural disasters, break-ins, burglaries, and much more. Especially applicable for retail stores and businesses, security film deters smash-and-grab robberies while giving building occupants precious time to escape or better hide until police arrive. Bomb blast and ballistic-resistant films are also available for those who require further safety and are more vulnerable to gunfire and explosions. These specialty security films can always be strategically installed in order to get the most out of your money while defending your property.
Installation Process for Security Film in Colorado Springs Commercial Properties
Colorado Commercial Window Tinting begins every security film project with a proper security assessment. Especially if you're considering installing bomb blast or ballistic-resistant film, we always conduct a full blast-effects assessment, BEA. Our security team utilizes civil engineers and security experts to understand any imminent threats in addition to the weak points of your building. Once a proper assessment is completed, we're able to deliver the right recommendations in terms of attachment systems, film thickness, and glass primer requirements.
For more information regarding security film for your Colorado Springs property, please contact us or call: (720) 835-2163