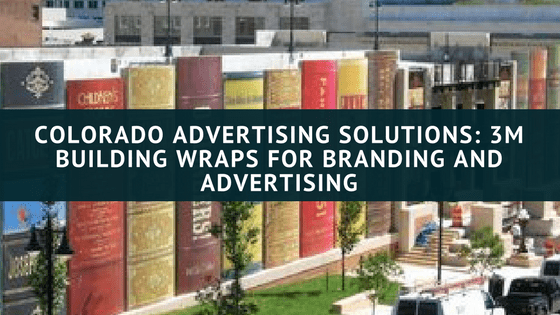 Colorado has been bursting with marketing opportunities and an abundance of new businesses. With so many people moving here each day, it may seem overwhelming when it comes to promoting your business. Making your commercial property stand out takes a powerful visual marketing tool in order to really attract new customers, retain repeat customers, as well as promote upcoming sales or events. 3M building wraps present a great option for Colorado businesses when it comes to branding and advertisement.
Benefits of 3M Building Wraps for Colorado Businesses and Commercial Properties
3M building wraps are a type of specialty decorative film that's engineered for exterior presentation. This innovative film can be applied to glass exteriors, windows, and doors in order to showcase whatever graphic or message your Colorado business or commercial property desires. 3M building wraps are highly customizable and are available in vibrant HD printed colors. Businesses can utilize this marketing tool for improved brand visibility, regional sales, upcoming events, product advertisement, paid sponsorships, and much more. Custom building wraps can feature one-way graphics that only appear from the exterior but maintain a clear view out from the inside.

Installation Process for 3M Building Wraps for Your Colorado Business or Commercial Property
Our local team of design experts are highly experienced in designing building wraps for advertising purposes. Whether you already know what graphics and promotions you'd like to utilize or need a little inspiration, Colorado Commercial Window Tinting has you covered. We utilize leading rendering software in order to showcase your marketing designs installed on your building so you can see the finalized look prior to installation. This allows you to make the most informed decisions about your 3M building wrap. We guarantee a stress-free, quick installation focused on minimizing operational downtime.
For more information regarding 3M building wraps for your Colorado business or commercial property, please contact us or call: (720) 835-2163