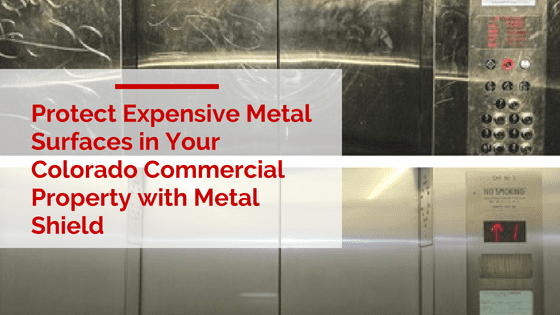 Many Colorado commercial properties have metal surfaces throughout from elevators to open kitchen surfaces. These metal surfaces can easily get scratched up from consistent use or fall victim to vandalism and graffiti. Property owners struggle to repair or replace these surface types due to the high costs and inconvenience factors. Especially when it comes to repairing elevators, property owners have to pay for recommissioning fees in addition to undesirable elevator downtime that inconveniences guests, tenants, and employees. Metal Shield offers an effective, budget-conscious solution for keeping metal surfaces protected and professional looking.
Benefits of Metal Shield for Your Colorado Commercial Property
Metal Shield is a thick, sacrificial surface film that comes in numerous different finishes in order to accurately imitate the appearance of your existing metallic surface. This revolutionary product conceals existing damage, giving guests the best impression of your Colorado commercial property while protecting surfaces against new vandalism efforts or general wear-and-tear. Once Metal Shield endures damage, it is easily removed and replaced by professional window film contractors. This product costs a fraction of the price for repairs, making it an ideal solution for commercial property owners.

Installation Process for Metal Shield in Colorado Commercial Properties
Metal Shield has a wide variety of applications including restaurants, retail spaces, offices, storefronts, schools, and many other commercial properties that feature metal surfaces. We utilize commercial-strength adhesives so that no one can tamper with your surface film. The seamless application promotes beauty and a uniform look. Our team of local window film contractors complete fast installation processes for no operational downtime. If you need a surface film replaced, just give us a call and we'll schedule a timely appointment for replacement.
For more information regarding Metal Shield surface films for your Colorado commercial property, please contact us or give us a call: (720) 835-2163