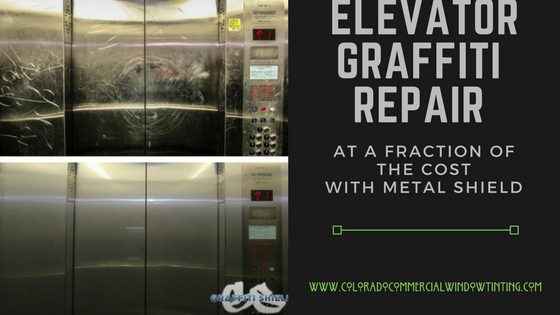 Metal Shield For Graffiti Removal In Your Colorado Elevator
If you own a commercial building in Colorado, it is more than probable that you have experienced graffiti a time or two.  It is not that Colorado is unsafe or that vandals run wild here, but because of no state, even one like Colorado with a relatively low crime rate is immune to graffiti.  In all reality any type of graffiti is hard on commercial owners, however, one type of graffiti, elevator graffiti, can make an extra deep dent in your wallet and mean expensive and distasteful downtime for your building.  It also comes with the added annoyance of a week of loud sanding and banging that comes along with traditional elevator panel replacement which could be a very uncomfortable situation with long-term effects like loss of tenants and/or clients.  At Colorado Commercial Window Tinting we know how elevator graffiti affects commercial buildings in the long and short term, and that is why we carry a line of Metal shield products, specifically designed to repair the damage done to elevators by vandals and save Colorado commercial building owners vast sums of time and money.
What is Metal Shield And How Will It Protect My Colorado Elevator From Graffiti?
Metal Shield is a 6-mil thick graffiti prevention film that goes over the damaged stainless steel surfaces.  It not only precisely matches the finish of the damaged panel–but requires no sanding either.  This film also acts as a sacrificial layer on your elevator's panel so if damage occurs again, the film is simply removed and replaced at a much lower cost (10x less expensive) and with less downtime (usually done in 1 day)  than with traditional panel replacement.   Additionally, at Colorado Commercial Window Tinting, we carry a full range of protective films for other areas that are also prone to vandalism; mirrors, glass, and almost any flat surface.
Don't let vandals cost you tens of thousands of dollars, protect your property and your profit with Metal Shield and contact Colorado Commercial Window Tinting today!