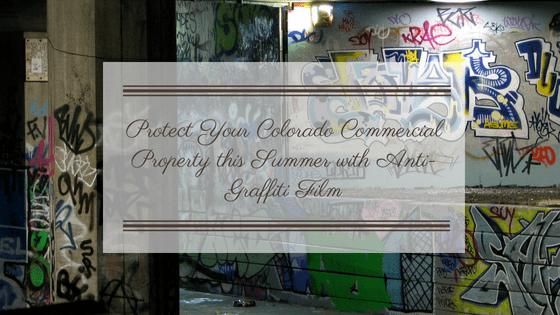 Colorado commercial properties experience a significantly higher amount of property crimes during summer months. This common trend hits most cities across the nation, making it a priority for commercial properties to find ways to protect their expensive investments. Since children and teenagers are out of school for the summer and there tend to be more tourists from out of town, vandalism and graffiti seem to skyrocket. Commercial property owners understand how expensive these repairs tend to be– anti-graffiti film presents a great way to protect your expensive surfaces for an affordable price.
Benefits of Anti-Graffiti Film for Your Colorado Commercial Property
Anti-graffiti film works as a durable, sacrificial layer that mimics any nonporous, smooth surface while concealing existing damage and protecting against new vandalism efforts. Strong enough to withstand acid etching, anti-graffiti film presents the best image of your Colorado business enhancing the guest experience and optimizing workspaces for your employees. Anti-graffiti film comes a variety of finishes, colors, and materials and has the ability to mimic metal, mirrored, and glass surfaces. If you have a surface that's prone to vandalism that doesn't fall into one of those categories, we're happy to provide custom printing surfaces to create a specialized anti-graffiti film for your commercial property. Anti-graffiti film can save you thousands in repair and replacement fees alone while costing a fraction of the price of repair.

Installation Process for Anti-Graffiti Film in Colorado Commercial Properties
We provide quick, worry-free installation processes that ensure no unnecessary operational downtime for your business. Anti-graffiti film is quick and easy to remove and replace by professionals– simply give us a call and we can quickly replace the film for your Colorado commercial property.
For more information regarding anti-graffiti window film for your Colorado commercial property, please contact us or give us a call: (720) 835-2163