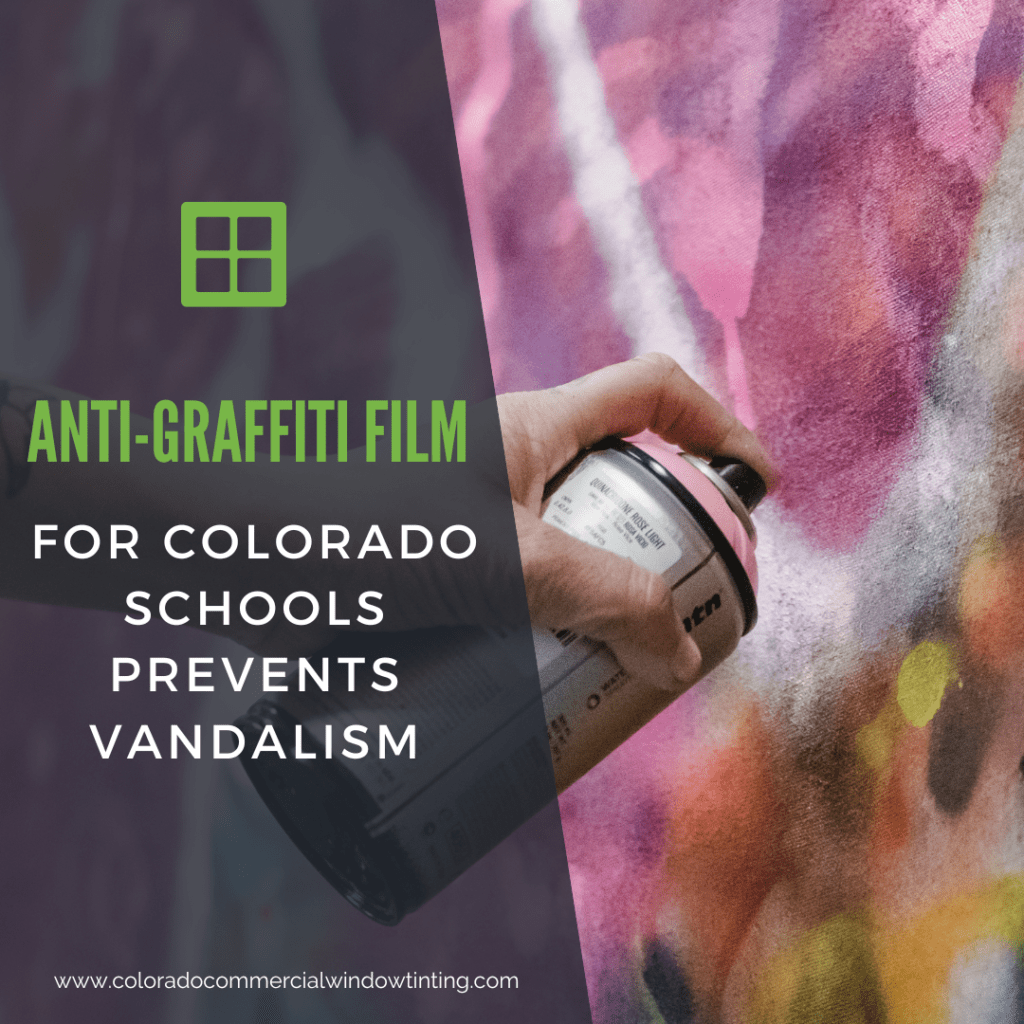 Vandalism creates many problems for schools. Not only does it result in expensive repairs that many schools don't have the budget for, but it also can lead to increases in crime and gang activity. Anti-graffiti film offers Colorado schools a solution for preventing vandalism on school campuses. It can also be used to make repairs quickly and affordably when vandalism occurs. Below, we've discussed the benefits in detail.
Anti-Graffiti Film for Preventing Crime on School Campuses
Graffiti is more than just an aesthetic issue. It can actually lead to increased violence and crime on school campuses. Studies have shown that graffiti and litter in a neighborhood can lead to increased criminal activity like stealing.
This supports the "Broken Window Theory." According to this theory, visible signs of crime and disorder lead to further and more serious crimes.
This explains why in schools, acts of vandalism often lead to further unruly behavior. Graffiti spreads like wildfire on school campuses. Once it starts, it's hard to control. What's more, it may send the signal to students that they can get away with criminal acts.
Anti-graffiti film provides Colorado schools with a solution for preventing vandalism without the need for ongoing monitoring in places like school bathrooms. These durable, tear resistant films can be applied to a variety of surfaces including desks, restroom stalls, mirrors, gym lockers and more. Once in place, the replaceable protects surfaces from graffiti, preventing permanent damage.
Fast & Affordable Vandalism Repair for Schools
Another benefits of graffiti protective film is that it can also be used to address pre-existing damage. These films are designed to look like the surface they're being applied to and come in finishes like glass, metal, and mirror. Schools can use them to effectively resurface areas that have been vandalized.
The benefit of this is that it's a major money-saver. Instead of replacing an entire bathroom mirror, a school can simply install anti-graffiti film to cover the damage. Once installed, the mirror will look like new, as if the damage never even happened in the first place.
This makes them perfect for repairing vandalized:
Restroom stalls
Restroom mirrors
School gym lockers
Desks and tables
Bus interiors/exteriors
Bus stops
Metal paneling
Handrails and more
End Vandalism in Your School
Call our office today to learn more about the benefits of anti-graffiti film for your Colorado school or schedule an appointment for installation.