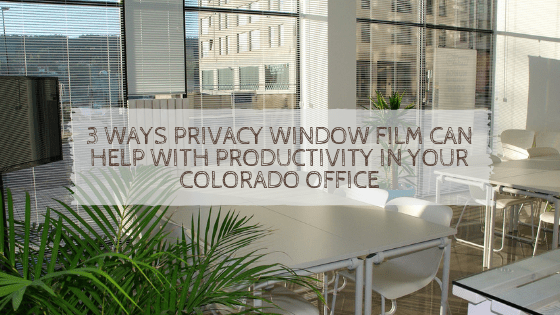 With the increasing population, Denver has to accommodate a large number of working people. We have one the lowest unemployment rates in the country which is always such a positive statistic. In order to house all these employees, many different collaborative workspaces have recently emerged. With all these coworking spaces and collaborative workspaces, finding the right privacy solution can really improve productivity. Lacking privacy can take the focus away from work, making these solutions so vital. Privacy window film effectively addresses these issues with great aesthetics and functionality.
Benefits of Privacy Window Film for Your Colorado Office
Collaborative workspaces and coworking areas require a privacy solution that still promotes that open, welcoming feel. Interior decorative films mimic the appearance of expensive custom glass but for only a fraction of the price. They're available in countless designs, styles, transparencies, opaques, colors, and transitional directions. Colorado offices can really customize these decorative privacy films adding a touch of brand visibility, logos, or various promotions. Custom printing and cutting are available for these decorative privacy films. Exterior privacy tinting is a great solution for offices that want to obstruct unwanted views from the outside in. Perfect for offices located within close proximity to each other, located on the first or second floor of a building, or require higher security needs, privacy window tinting is available in numerous hues and reflective ranges for a modernized look.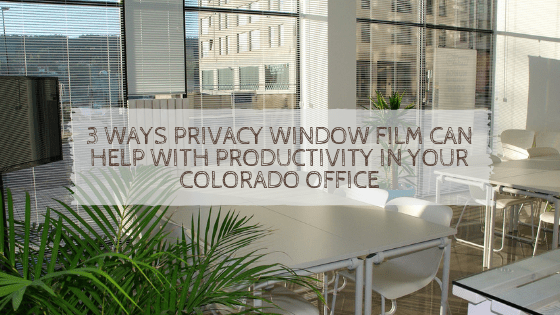 Installation Process for Privacy Window Film in Colorado Offices
Colorado Commercial Window Tinting has worked with a multitude of different office spaces throughout the Colorado area. We're happy to provide free on-site consultations in order to determine your property's individual needs, challenges, and goals. We always provide timely installations that focus on minimizing operational downtime.
For more information regarding privacy window film for your Colorado office, please contact us!