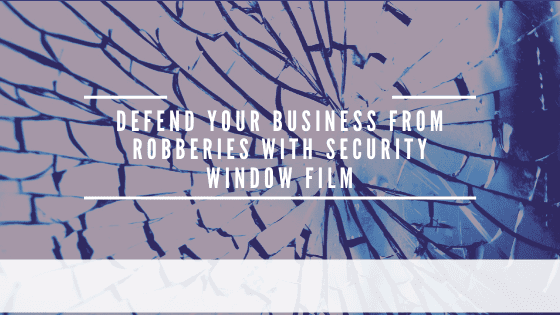 During these uncertain times, many of the non-essential businesses are now temporarily closed under state order. While the upside of this quarantine is that crime rates have dropped, some forecast that the number of layoffs may increase crime rates in the near future. With business owners staying home, it is important to find ways to ensure your property remains safe. With limited options for defending against smash-and-grab robberies, the best preventative measure is security window film.
The Benefits of Security Window Film for Your Denver Business
Security window film offers prevention against smash-and-grabs while protecting your business from break-ins, robberies, freak accidents, severe weather, and natural disasters. By bonding glass fragments together after an impact, this prevents broken glass hazards. Glass breakage is the leading cause of severe injury and blast-related death. This also makes cleanup a lot easier and safer after an event which minimizes your operational downtime. Security window film can also provide the added benefits of UV protection, energy efficiency, privacy, decorative, and more. In the event of a break-in, this innovative film will provide precious time for your building occupants to better hide or escape until the police are able to arrive on the scene. Gain peace of mind knowing that your commercial property is protected even when you're not there.
Work with Denver's Number One Security Window Film Specialists
Colorado Commercial Window Tinting is honored to be the number one security window film specialist serving the Denver area. We are offering free virtual consultations and can help you get your security project started from the safety and comfort of your own home. Work with our security experts to learn more about all the different options that are available for your commercial property.
For more information regarding security window film for your Denver business, please contact us!