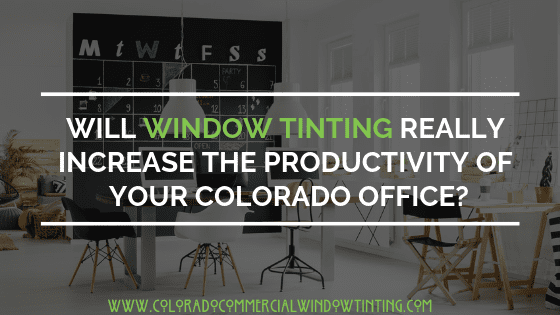 Office Window Tinting For Better Productivity In Colorado Office Settings
When you work in an office setting the phrase "time is money" makes a lot of sense.  In fact, you probably know exactly what that means because you live it every day. The fact of the matter is when working in an office setting, steering clear of distractions and setbacks is the only way to work effectively and succeed.  In almost every instance more work equals more money. So, every little thing during the day that takes you away from work (opening and closing the shades, getting stuck in a long conversation at your desk, adjusting the a/c or constantly putting on and taking off a sweater)  ends up costing you, the worker, or boss or owner– time, and ultimately money. The answer to better office productivity, is not surprisingly, window tinting. It is a great all-around solution to many issues related to windows in offices but also, the perfect way for office workers to stay focused and at their max earning potential.
In What Way Does Window Tinting Increase Office Productivity?
Window Tinting In Colorado Offices Blocks The Sun
The sun's glare on computer screens is a problem across the board in offices in Colorado; the mile high city is notorious for intense sun. If you have experienced glare at work here–you are not alone.  Furthermore, you already understand that getting a lot of work done, when you can barely see the screen, is simply not going to happen. When there is glare on a computer screen, work slows to a halt and it gives you headaches too.  But happily, doesn't need to be the case with window tinting. It curbs the glare of the overwhelming Colorado sun and allows for computer screens to be perfectly unobstructed.
Window Tinting Makes Colorado Offices More Comfortable
Many people don't realize that window tinting makes offices more productive simply by making them more comfortable.  It makes sense when you think about it– working in cold, hot, bright or dark places is harder and makes work even less appealing. So when window tinting regulates all those extremes– you categorically get more done.  Window tinting means better shade, filtered light, and even temperatures, all of which are great for a comfortable office setting. Also, a more comfortable, appealing office means less tardiness and sick days too. sWindow
Tinting Gives Colorado Office Workers More Privacy
The open office trend is super "in" right now and there are definitely for good reasons for it.  Fewer walls encourage teamwork, make communication easier and make things a bit more casual in general.  However, not having even a modicum of privacy is frustrating for employees and VERY distracting. This is where offices window film works wonders.  By putting decorative window film in strategic glass walls and even providing glass cubicles with partial window film, open office settings, become more productive and workers are happier about their surroundings and performance.  Plus, it comes in a ton of patterns, colors, and designs, so it is a super stylish addition to any modern office space. In Colorado offices, you get the best privacy and style when you use decorative window tinting and all around better, more productive workers.
Window tinting is a powerful office addition for nearly any sort of business in Colorado.  To learn more about window tinting for privacy, sun control, decoration and more–contact us a Colorado Commercial Window Tinting for information and pricing today!