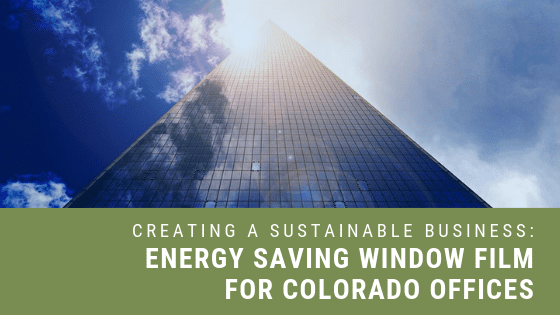 As citizens of the Earth, it's our duty to protect the precious planet we inhabit. Creating a sustainable world starts first with the choices we make in our daily lives, at home and at work. Investing in sustainable technology for your business can not only save you money in the long run, but it can also make you more marketable. A great way to make your office more eco-friendly is to installing energy saving window film for your Colorado commercial property.
Energy Saving Window Film: An Eco Friendly Investment for Colorado Businesses
Business operations are the largest cause contributing to energy consumption in the United States. Every year, commercial buildings consume thousands of dollars of energy, depleting the amount of natural resources in the environment.
By switching to more eco-friendly power sources and reducing energy consumption, businesses can do their part to protect the environment and the world's natural resources. Energy saving window films provide Colorado businesses with a low-cost solution for upgrading to eco-friendly technology.
Energy saving window films, such as Solar Gard, reduce reliance on artificial lighting and limit hvac energy consumption by preventing solar heat gain. During the summer, buildings absorb less heat and require less energy to cool down. Natural light creates a bright, sunny work space that reduces costs for fluorescent lighting and improves employee productivity.
Making the Switch to Energy Saving Window Film
Making the switch to energy saving window film is easy. With window film, no special renovations are required so you don't have to worry about the installation process impeding your business functions. Your office can carry on as usual while your window tinting company completes the installation.
Simply contact your local window tinting contractor and schedule a time for a consultation to get started. During your consultation, your project manager will work with you to find a day and time for the installation that works with your company's schedule.
Get a Quote on Energy Saving Window film in Colorado
Switch to more eco-friendly method of operating today. Contact Colorado Commercial Window Tinting to have energy saving window film installed for your Colorado business.