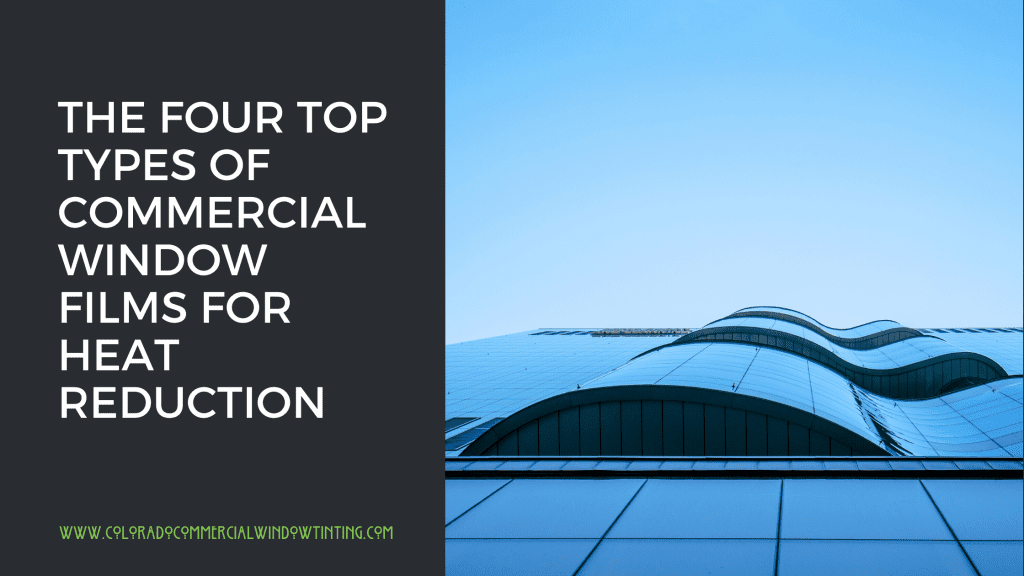 Window film effectiveness varies widely depending on the type of film–especially in when it comes to commercial films. So, which type of window film you use on your Colorado commercial space is key to your success in reducing heat. Below are the four main types of commercial films.  
Commercial
Ceramic Window Tint
Ceramic window tinting is extremely effective at blocking glare– it blocks about 63%, 62% of glare. It also blocks 99% of UVA and UVB rays. But what is best about ceramic window tinting for commercial applications is how much clarity they have. These films are virtually invisible–meaning those lovely Colorado mountain views won't go away. 
Commercial
Neutral Solar Window Film
If you are looking for an excellent heat reducing window tinting for your Colorado commercial space but still allows you natural daylight appearances inside–Neutral window film is the one for you. It has low reflectivity and blocks upwards of 50% of heat and glare, and 99% of UV rays.
Commercial
Reflective Window Film
Reflective window film is powerful enough to block up to 79% of heat and a whopping 83% of glare! But, like many commercial tints, it also blocks 99% of UVA and UVB rays. What is really great about these types of commercial window tints is its ability to reduce visibility into your commercial space.  When heat reduction and privacy are both of high concern–commercial reflective tints are the answer.
Dual Reflective Window Film
Commercial
Dual reflective window tints give a measure of privacy like reflective heat-rejection films but also allow in better views like a ceramic film. This means, with these amazing hybrid films you get 71% of heat blocked, glare reduced by over 80% and 99% of UVA and UVB rays–but some privacy and some views too!
The heat reduction window tinting you select for your Colorado commercial space depends on your building's situation. Having a professional guide you through these four choices, and more, will be critical to saving your commercial space thousands, so contact us today at Colorado Commercial Window Tinting for a consultation and pricing.