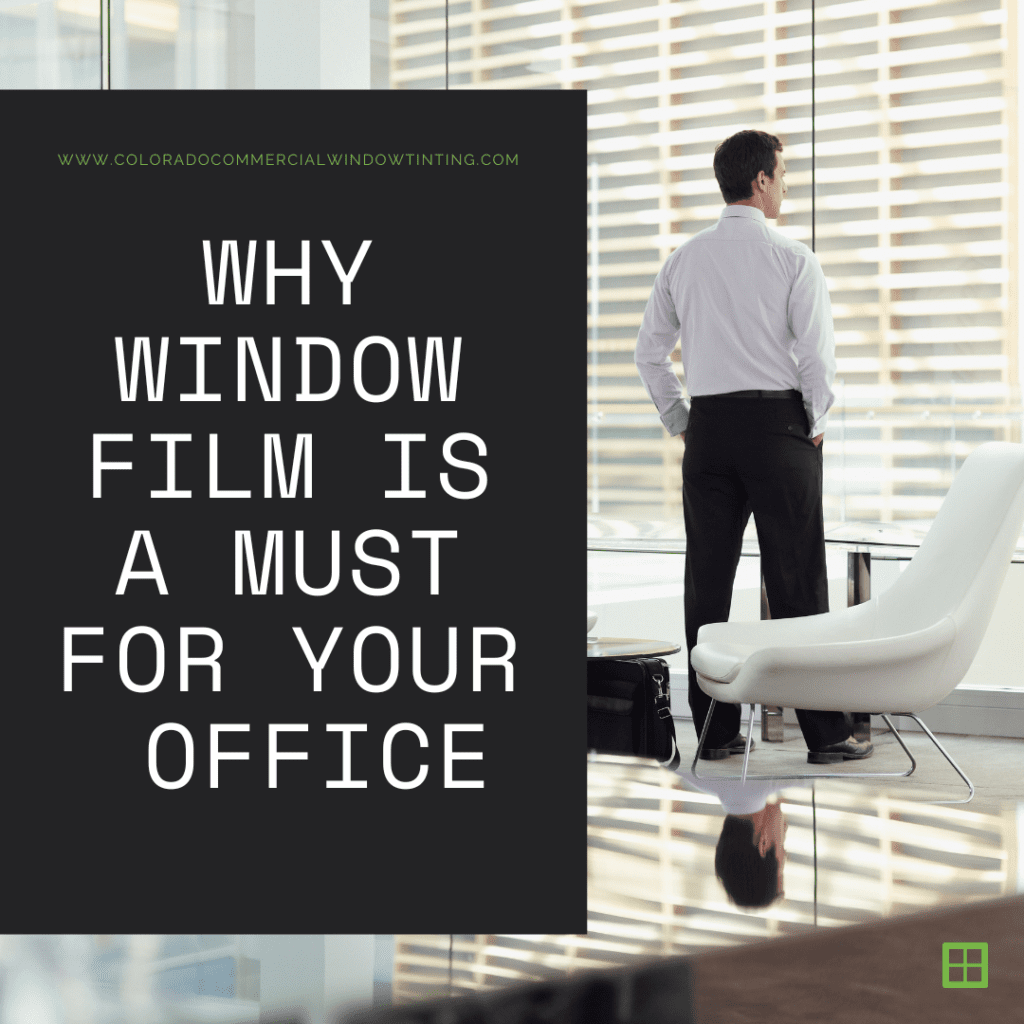 Summer is here, and with it comes the need to keep your office cool and comfortable for both yourself and your employees. However, running an air conditioner non-stop can be expensive and wasteful. Thankfully, there is a solution to keep your Colorado office cool without breaking the bank. Window film is an increasingly popular choice for office owners across the globe. In this post, we'll explore the reasons why window film is a must-have solution for offices this summer.
The Many Benefits of Window Film for Offices
1. Window Film Reduces Heat and Glare:
In summer, the blazing sun can penetrate your office space and make the atmosphere uncomfortable. However, equipping your windows with film can reduce the heat and glare effectively. Window films are designed with advanced technologies that reflect the sun's rays, reducing the amount that enters your space. By doing so, the interior of the office space stays cooler and more comfortable, which enhances productivity and reduces stress for employees.
2. Window Film Promotes Energy Conservation:
Air conditioners consume a significant amount of energy, which can lead to high energy bills for office owners during summer. However, with a heat-reducing window film, your air conditioner won't need to run as often or for as long, which leads to energy bill savings. By reducing energy consumption in your Colorado office, you'll also help sustain the environment by using fewer non-renewable resources.
3. Window Film Enhances Window Safety:
Accidents happen, and sometimes, office windows break accidentally. However, when a window breaks, the glass shards can cause extensive damage, injuries, or even death. With advanced window films, however, you can protect your office from such incidents. The film holds the glass together and prevents it from shattering, reducing the potential for damage or injury. This safety feature is perfect for offices with children or pets.
4. Window Film is Very Cost-Effective:
Window film is a cost-effective option to retain heating, cooling, and overall energy costs in the long term. You won't need to pay any recurring expenses since the installation is permanent, and you can expect your electricity bills to decline a noticeable amount. Window film is also an affordable solution compared to other energy-efficient products, making it an effective option for any office owner.
5. Window Film is Versatile
Window films are versatile, which means that they can be customized to fit your specific needs. You can select the shade or texture that suits your design, privacy, or aesthetic demands. It means you can choose a design that matches your Colorado office's brand and interior design or adds a sense of privacy to conference rooms and private offices.
In summary, window film solutions are an ideal choice for office owners to keep their spaces cooler this summer. These films are a smart investment that enhances the productivity, safety, and aesthetics of your office while reducing your energy costs. Whether you're looking for a durable and cost-effective way to keep your office cooler or to reduce glare, window film is an excellent option that provides many benefits. So, if you're looking to improve your office environment this summer, consider window film installations to deliver the ideal space for your employees to be comfortable and productive.
Contact Colorado Commercial WIndow Filmfor a Free Window Film Estimate
The bottom line is that office window film can bring a multitude of benefits to your business. Not only does it offer a modern look to customers and guests, but it also provides ample privacy and shields against heat damage and the risk of injury from shattered glass. Window film can also help you enjoy better energy efficiency and lessen cooling costs during the summer months. What's more, installing window film shouldn't be a hassle; our team is ready to make the process as painless as possible. So don't wait too long—contact us today to get started with your free office window film consultation. With modern designs and options that fit any budget, you'll appreciate the value this simple installation can have for your business. In just a few hours, you could have improved energy savings and the peace of mind that comes with knowing your office windows are safe, secure, and stylish. Let us help you get there!