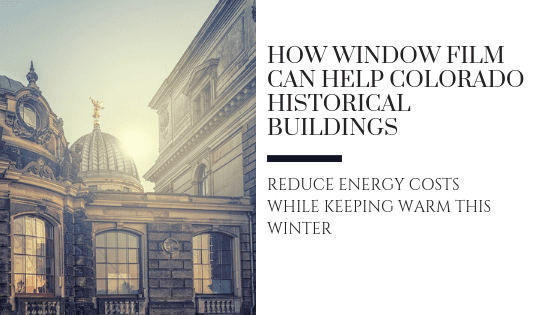 Historic buildings are a vital part of Colorado's architectural diversity. They add character to the state while preserving trends and building techniques of days long gone. Unfortunately, historic buildings are known for more than just their style—they're also known for their draftiness and lack of energy efficiency. Installing energy efficient window film on historic Colorado buildings can help you save money and stay warm this winter. Here's how.
Ways Window Film Can Benefit Colorado Historic Buildings
Insulates Against Heat Loss
Windows are one of the main sources of heat loss in every building. When that building is old and the windows have shifted in their frames, all the heat indoors can quickly escape out into the cold. This forces your furnace to work overtime just to keep the space comfortable. Energy efficient window film acts as an extra layer of insulation, sealing many of those drafts so your heat can stay indoors where it belongs. The less you have to heat your historic Colorado building, the more money you'll save on energy costs.
Preserves Old Windows for Posterity
Improvements to historic government and public buildings must be approved by the city or county before any work can be done. This means if you want to replace old inefficient windows, you have to get the appropriate permit. Energy efficient film can be applied to any window without damaging the glass or compromising the historic architecture. This makes it easier to improve your building's efficiency without diminishing the impact of those original window frames and architectural elements.
Get Your Quote Today
Installing energy efficient window film can make your historic Colorado building more comfortable throughout those cold winter days. Contact us today to get a free quote or to schedule a consultation with our team. We'll help you find the perfect film to keep your historic building comfortable without damaging the elements you love most.