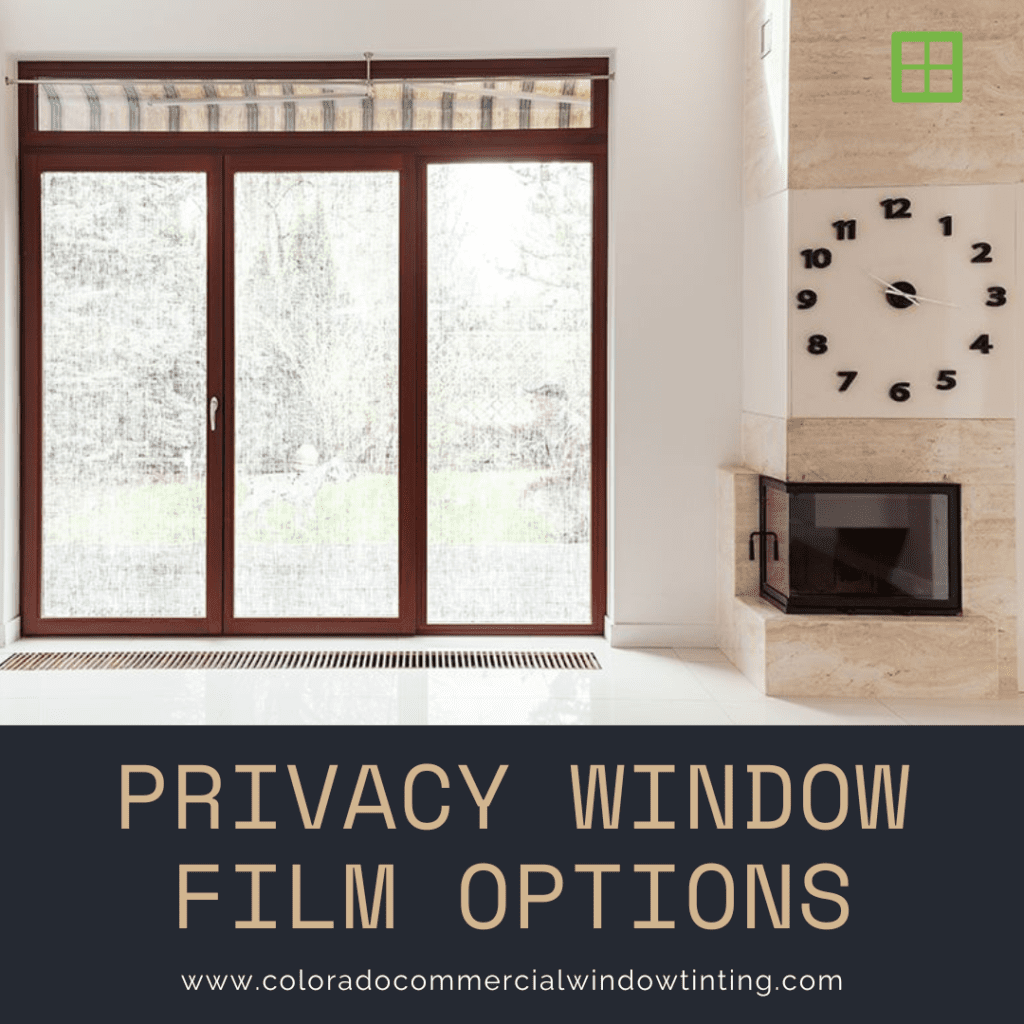 Privacy window film is something we get frequent requests for from commercial and residential property owners in Colorado. This is because as Colorado grows, structures are built closer together there are more people. We offer several types of privacy window films to meet this growing need. Which privacy window film depends on various factors like budget, locations, or which additional benefits you desire.
Solar or Sun Control Window Tints for Privacy 
Although known for their solar control benefits, window tints can also be used to increase privacy in a building. They are handy for maintaining privacy in Colorado homes or businesses with large windows or glass walls, which are always difficult to keep private. In commercial buildings, where privacy is critical, like government buildings, secure buildings, or doctor's offices, they are very important. Solar control tints for privacy are a must in high-end residential settings where valuables are easily visible through windows.
Added Benefits of Solar Tints for Privacy
The added benefit of solar tints is their ability to control the side effects of the sun. They block the UV rays that cause damage to furniture, flooring, and artwork and are harmful to human health. They also reduce heat gain or loss through the glass of windows. Finally, these tints will lower heating and cooling costs in both residential and commercial environments. So they make great sense economically too!
Decorative Window Films for Privacy
Decorative window film is an excellent privacy solution for homes and businesses in Colorado. They are engineered to be both functional and beautiful, providing several benefits to those seeking privacy and beauty.  However, these benefits will vary depending on whether you require privacy in a commercial or residential setting.
Decorative Privacy Films for Homes in Colorado
In residential settings, these films can be applied to exterior-facing windows to block unwanted views or filter light and glare. This is especially true for homes on busy streets or windows facing south or west. These films come in a wide variety of set designs but can be completely customized to match any home decor too. They are also an inexpensive way to decorate your Colorado home windows without the use of expensive window treatments.
Decorative Privacy Films for Commercial Buildings in Colorado
Just like homes in Colorado, one of the biggest benefits of decorative window film for privacy is its lovely appearance. However, commercial buildings have more interior privacy needs than homes do, for instance, in offices that handle sensitive information like accounting or medical. Also, in conference rooms where meetings are being held. For locations like these, there are specialty decorative films that can help. 
Cloaking Films for Office Privacy
Cloaking films, for example, obscure LCD screens inside office areas that work with sensitive information. From the outside looking in, the screens appear black. Frosted and textured decorative films are also helpful for areas like cubicles or on the windows of manager offices. They allow privacy levels to be customized to individual needs. So a business can have some coverage but still enough clarity to let in natural light and keep spaces appearing open. 
For more information on window film for your Colorado location, contact us today to schedule a free privacy audit!