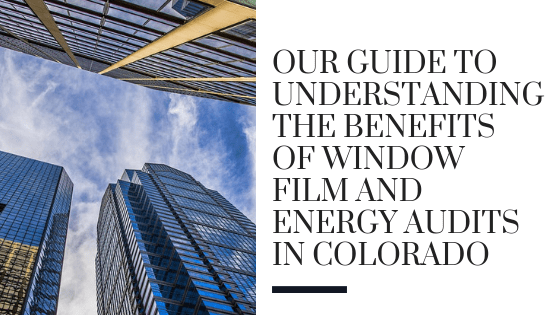 If you don't have energy efficient windows in your building, you could be overpaying on your monthly utility bill. Windows are the leading cause of energy loss in most commercial properties, still many property owners want to be sure that this is the true source of their energy cost woes before making an investment. By having an energy audit completed, you gain a better understanding of where your building is losing energy. This could help you with deciding whether you want to install window film for your Colorado business.
In this article, we'll provide some insightful information about home energy audits and why so many energy inspectors include window film in their recommendations.
What is an energy audit?
An energy audit is a formal evaluation completed to determine the energy efficiency of a building. There are two types of energy audits, energy surveys and general energy audits. Energy surveys rely on a method of visual inspection while energy assessments use special tools and equipment to collect data and produce a highly detailed report.
Energy Conservation Plans
You can obtain a commercial energy audit by contacting your local energy provider. Another possible option is to contact a window film manufacturing company like Llumar or Vista. Once an inspector has completed an evaluation of your building and determined the main cause of energy loss, they will then create a report for you to review that explains their findings. Included in the report will be an energy conservation plan that will have a list of suggested changes.
Energy efficiency experts often suggest window film as part of a conservation plan. Window film is known for being one of the most effective and affordable ways to improve the energy efficiency of a property in Colorado. Window film can trim down energy costs by nearly 30% and also has a very quick ROI of 3 years, so it's an easy investment to make and one with a significant payback.
Schedule a Consultation
Curious to know how much you can save with window film? Call Colorado Commercial Window Tinting today to get more information on energy audits and window film in Colorado or schedule a consultation.