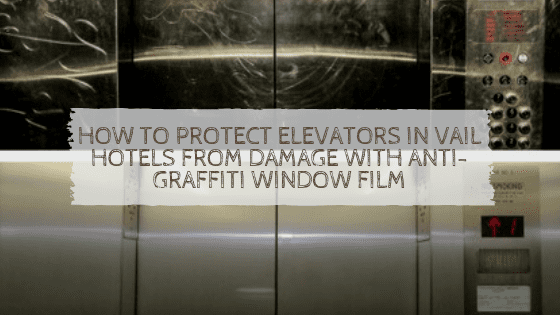 Vail hotels definitely focus on attention to detail and impressing their guests. With so many hotels in the area, competition is high making the guest experience quite significant. Vail hotels can experience numerous issues when it comes to damages to their elevators– from scratches resulting from daily wear-and-tear to more significant vandalism attempts. Repairing these damages can be extremely costly while resulting in unfortunate downtime which can affect if a guest decides to stay there or not. Anti-graffiti window film offers the best solution for hotel elevators.
Benefits of Anti-Graffiti Window Film for Your Vail Hotel Elevator
Whenever damages are repaired for an elevator, it must go through the recommissioning process. This includes unforeseen downtime and a significant fee. With anti-graffiti film, you can skip the recommissioning process and give your elevator a fresh look quickly. Not only does anti-graffiti window film conceal existing damage, but it also protects against new damages. Durable enough to withstand acid etching, your expensive elevator's metal surfaces will remain protected from whatever comes its way. Available in multiple metal finishes, we guarantee we can find the perfect match that offers invisible protection and is tamperproof to the public. Anti-graffiti film is easy to remove and replace by a professional window film contractor once it's been damaged, saving you thousands in repair fees.

Installation Process for Anti-Graffiti Window Film for Vail Hotel Elevators
Colorado Commercial Window Tinting offers the most timely and stress-free installation process. The anti-graffiti film is pre-cut specifically for your elevator prior to arrival ensuring perfect dimensions and a quick installation. We utilize C-Bond for quicker cure times to ensure your hotel doesn't suffer from unnecessary downtime. If you require a new film for replacement, simply call us and we'll schedule a convenient time for installation.
For more information regarding anti-graffiti window film for your Vail hotel elevator, please contact us!