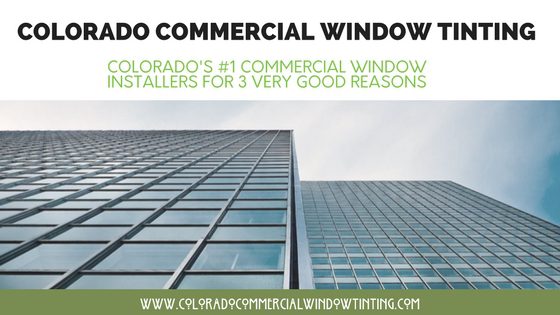 Commercial Window Tinting In Colorado
So, you're looking for a company that does commercial window tinting in Colorado right? Well, then it is likely you already have a pretty good idea of the benefits of window film for your Colorado commercial location: it acts like sunscreen for windows, blocks ultraviolet (UV) light, keeps your investment safe, saves you money and adds privacy to your building inside and out. From here the next step is finding a contractor you trust with the job of installing window film because, who you have install your commercial window film is easily as important as what tint you choose and, in fact, could drastically affect your ROI. At Colorado Commercial Window Tinting, we are a locally owned company, well renowned for our professionalism and we have installed tens of thousands of feet of window film here in Colorado for jobs big and small. For the last decade we have been serving Colorado and here are three of the best reasons to work with our us!
1. Best Commercial Window Tinting Selection
Since we have worked with Colorado's best businesses and institutions we know that selection is critical to solving the issues our large and small clients experience. This is why we offer a variety of films for nearly any application film is used for:
Energy Efficient Window Film
Solar Window film
Decorative Window film
Security Window film
Daylight Redirecting Window Film
Privacy Window Film
2. Expert Commercial Window Film Installers
Our installers are very experienced and extremely well trained to install window film on any commercial location and to solve any problem or set of problems they come across. All of our installers are certified by the brands they install, so you can rest easy knowing our workmanship is covered under the manufacturer's warranty.
3. Impeccable Customer Service
At Colorado Commercial Window Tinting we work hard to ensure all of our customers are totally satisfied with our products and services. Everyone from our front office staff to our on-site technicians and crew are always professional and courteous. We know the customer is the most important part of our business and the way we conduct ourselves shows it!
Colorado's Commercial Window Tinting Experts
Colorado Commercial Window Tinting offers the best products, widest selection, and the most superior window tinting services in all of Colorado. We have over ten years of experience and myriads of satisfied customers. For more information and to schedule a free consultation, contact us today!