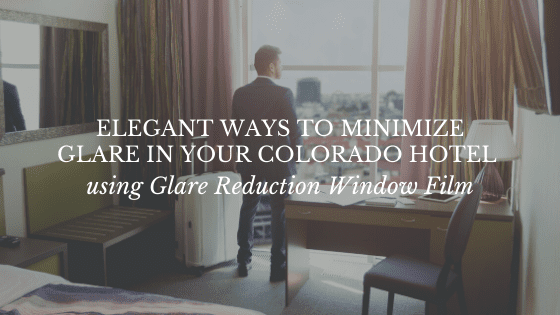 When you live in Colorado, you get used to constant sunlight. In some respects, the continuous light and warmth from the sun is very pleasant. It helps make chilling winter days more bearable. And constant blue skies are also a much better alternative than perpetual rain. But in other respects, the continuous sunlight can get annoying. Especially when it affects your hotel guests by creating too much glare.
Getting rid of glare is an art. You have to find ways to work with the sun, not against it. Blocking it out with window shades or curtains will make your hotel look dark and uninviting. That's what makes hotel window film such a great alternative. With window film, Colorado hotels can easily get rid of glare without compromising aesthetics. Here's how.
How to Get Rid of Glare in your Hotel with Window Film
The Mile High City has some fantastic views. But it also has some fantastically intense and hot summer days. And in hotels, glare can be a serious issue. Below, we've listed some of our favorite ways to use window film in Colorado hotels to get rid of glare.
Frosted Film for Lobbies
Nothing says "elegant" like frosted film. It's subtle, yet effective, and is perfect for getting rid of glare in hotel lobbies.
Reflective Film for Exterior Windows
Reflective window film isn't just good for getting rid of glare. It's also excellent for creating privacy. Add it to the windows around your hotel's perimeter to create an even, consistent look that keeps guest rooms out of sight.
Neutral Film for Common Rooms, Guest Rooms & More
You don't have to do anything dramatic to get rid of glare in your hotel. A simple window film in a neutral tone will do the trick. Plus, you'll love the way it softens the incoming sun and diffuses light around the room. Try this one on your guest rooms, common areas, and anywhere else that could benefit from a bit of glare reduction.
Get Rid of Glare for Good
Call Colorado Commercial Window Tinting today to upgrade your hotel's windows with window film that gets rid of glare for good!