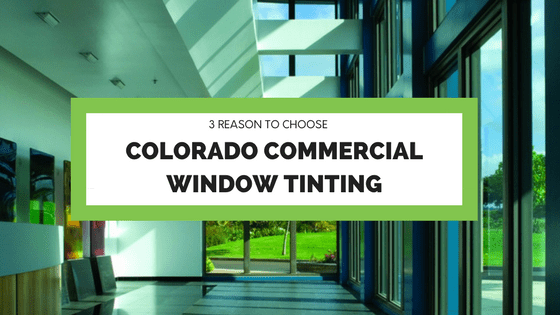 Commercial Window Tinting In Colorado
If you're have been searching for a commercial window tinting installer for your Colorado commercial property, it is likely that you have already discovered for yourself the benefits of window film. In fact, you are well aware of its many benefits like–window film act like sunscreen for windows, blocks UV/UVB light, makes your commercial property more secure, saves you money on utility bills and adds much-needed privacy to both the interior and exterior of your building. These are pretty significant and attractive benefits, however, reaping those benefits depends mostly on how your film is applied. So who you hire to install your commercial window film is critical and ultimately the most important part of solving the issues you may be having. Hiring Colorado Commercial Window Tinting is a sure fire way to guarantee the durability and efficacy of your window film-because we have the experience and know how that counts. We've been Colorado's source for the best window tinting installations for over ten years. Besides the fact that we get the job done on time and within budget here are some other reasons we stand out.
1. Best Commercial Window Tinting Selection
As a long time player in the Colorado market, we've worked with many of Colorado's best businesses and institutions. In doing so we have found, providing a big selection is a huge part of solving the issues our customers face. This is why we offer so many different films for almost any application.
Films Like:
Energy Efficient Film: This film saves commercial property 20% and sometimes more on energy bills–year round. It does so by keeping the heated or cooled air in and reflect solar heat away from windows.
Solar film: These films offer a way to mitigate solar heat issues where they start–on your building's glass. They reduce the intense glare of the sun and also redirect it into your building where light normally does not penetrate. Films like these are a great way to keep your tenants comfortable and happy.
Decorative film: This film is totally customizable and lets you be as creative as you want. From frosted looks to unique textured designs and art installations–you can now keep your workspace modern and fresh. It is also perfect for branding and attracting high-end clients too.
Security film: This film makes regular glass shatter proof. As a result, the glass on your commercial building will stay in place and not explode during natural disasters and break-ins. We also offer films that guard against scratches, traditional and scratch graffiti.
.
2. Expert Commercial Window Film Installers
Our crew members are the best! They are both experienced and well-trained. The film they install garners you the very best results because it is installed to brand standards. Since all of our installers are certified by the brands they install, their installations are covered under the brand warranty.
3. Impeccable Customer Service
We want you to be 100% satisfied with our service as well as our products and applications. This is why you will find the highest level of professionalism from the person who answers your call, to the technicians who install your film, We know the customers are the bedrock of our business and everything we do is focused on your experience being a good one.
Colorado's Commercial Window Tinting Experts
Colorado Commercial Window Tinting offers the best products and the best services in Colorado. We have over a decade of experience and a myriad of satisfied customers. For more information and to schedule a free consultation, contact us today!